Save The Date: The MarTech Summit Berlin 2023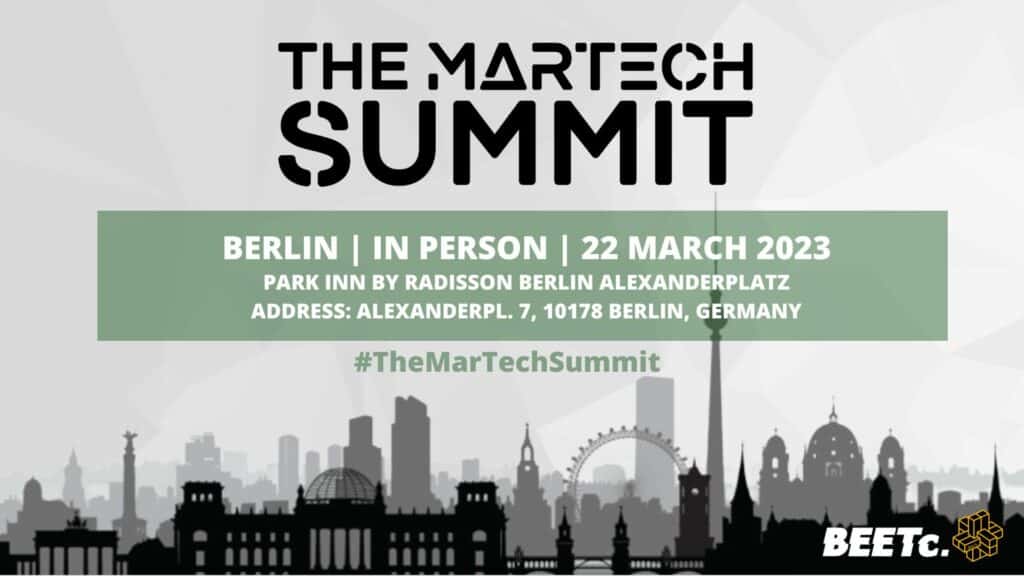 »This post is an unpaid PR, media collaboration«
The MarTech Summit series aims to bring together the best minds in marketing technology from a range of industries through a number of diverse formats and engaging events.
Our flagship event, The MarTech Summit, available in both physical and virtual formats focus on four main theme tracks across all locations, these are:
Emerging Marketing Technologies
Digital Transformation
Data-Driven Marketing
Customer Experience & Engagement
We are bringing the renowned MarTech Summit series to Germany with this event taking place in the country's capital, Berlin. In this English language agenda we will discuss the status and development of marketing technology used by different companies, both local and global with a strong European base. This variety of perspectives on globalisation and localisation tactics will give a comprehensive view of the trends and strategies in place. In addition, the summit is guaranteed to be attended by 85% of senior leadership positions, ensuring you will learn and network with CMOs, Heads, Directors and more.
The MarTech Summit Berlin will be taken place following the motto Driving Change in Localised Marketing Strategies. The summit will be held in person on 22 March at Park Inn by Radisson Berlin Alexanderplatz (Alexanderpl. 7, 10178 Berlin, Germany). Find out more information and register here: https://themartechsummit.com/berlin
This summit is designed for senior level executives in functions such as:
Marketing & Technology | Brand Loyalty & Retention | Data Privacy | E-commerce Marketing | Digital Strategy | Customer Experience (CX) & Engagement | OmniChannel | Innovation | Social Media | Content Strategy & Storytelling | CRM | Customer Data Platforms | Digital Asset Management | Automation | Digital Transformation & Growth | Digital Experience | Customer Journey Marketing | Full-funnel Marketing