Save The Date: The MarTech Summit Berlin 2023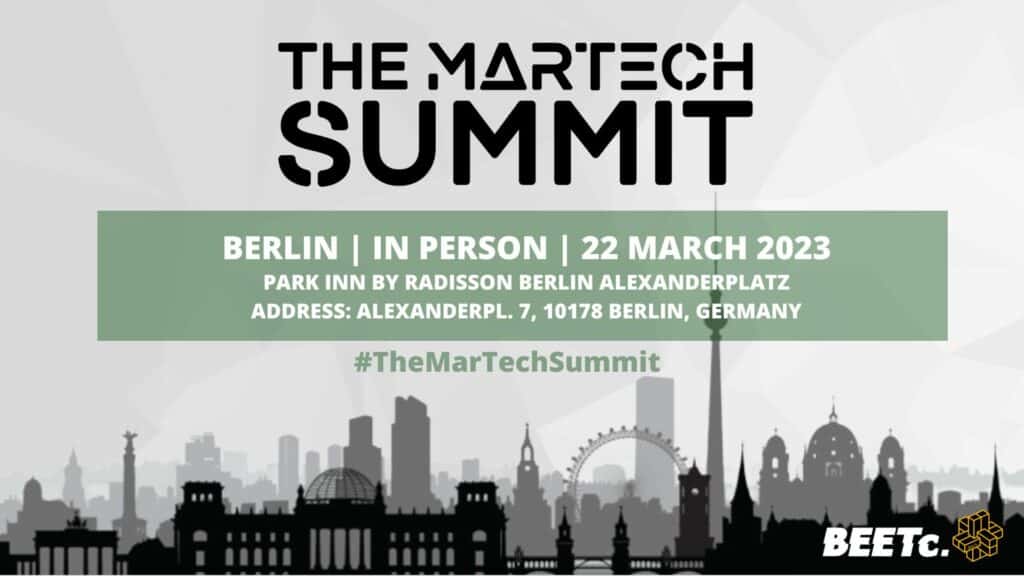 »Bei diesem Beitrag handelt es sich um eine unbezahlte PR, Medienkooperation«
Am 22. März 2023 findet The MarTech Summit Berlin im Park Inn by Radisson statt und bietet den besten Anlass die aktuelle Entwicklung von Marketing-Technologien in einem geografisch übergreifenden Event-Format zu diskutieren.
Der MarTech Summit Berlin (Linkedin) findet unter dem Motto "Driving Change in Localised Marketing Strategies" statt. Die Veranstaltung wird in englischer Sprache am 22. März im Park Inn by Radisson (Alexanderplatz 7, 10178 Berlin, Deutschland) abgehalten.
Wir von digitalmarketingblog.it freuen uns als Medienpartner bei The MarTech Summit dabei zu sein und unterstützen neben dem MarTech Summit am 22. März in Berlin drei weitere Veranstaltungen der Summit-Reihe 2023:
The MarTech Summit Berlin, Mittwoch, 22. März
Virtual MarTech Summit APAC, Dienstag, 25. Mai
The MarTech Summit London, Mittwoch & Donnerstag, 15.-16. November
Global Virtual MarTech Exchange APAC & EMEA, Donnerstag, 7. Dezember
Alle Events des MarTech Summit konzentrieren sich auf die vier Hauptthemen: Aufkommende Marketing-Technologien, Digitale Transformation, Datengesteuertes Marketing, Kundenerfahrung & Engagement.
Ziel des MarTech Summit und des Veranstalters BEETC ist es, die besten Köpfe der Marketingtechnologie (MarTech) branchen- und länderübergreifend durch eine Reihe von unterschiedlichen Event-Formaten, sowohl in physischer als auch in virtueller Form, weltweit zusammenzubringen.
The MarTech Summit Berlin, Mittwoch, 22. März
Inhaltlich geht es in Berlin darum den aktuellen Stand der Entwicklung von Marketing-Technologien zu diskutieren, welche von den verschiedenen lokalen und globalen Unternehmen mit einer starken europäischen Basis verwenden. Diese Vielfalt an Perspektiven zu Globalisierungs- und Lokalisierungstaktiken wird einen umfassenden Überblick über die aktuellen Trends und Strategien geben.
Hier der Link zur vollständigen Agenda.
Hier die bestätigten Speaker/innen.
Das Summit wird zu 85% von Führungskräften besucht und richtet sich an leitende Angestellte in Funktionen wie:
Marketing & Technologie | Markentreue & -bindung | Datenschutz | E-Commerce Marketing | Digitale Strategie | Customer Experience (CX) & Engagement | OmniChannel | Innovation | Social Media | Content Strategie & Storytelling | CRM | Kundendatenplattformen | Digital Asset Management | Automatisierung | Digitale Transformation & Wachstum | Digital Experience | Customer Journey Marketing | Full-funnel Marketing
Wir freuen uns dabei zu sein und darüber zu berichten!
Hier findet du nochmal alle Informationen zum Event und zur Registrierung.
*********************
The MarTech Summit series aims to bring together the best minds in marketing technology from a range of industries through a number of diverse formats and engaging events.
Our flagship event, The MarTech Summit, available in both physical and virtual formats focus on four main theme tracks across all locations, these are:
Emerging Marketing Technologies
Digital Transformation
Data-Driven Marketing
Customer Experience & Engagement
We are bringing the renowned MarTech Summit series to Germany with this event taking place in the country's capital, Berlin. In this English language agenda we will discuss the status and development of marketing technology used by different companies, both local and global with a strong European base. This variety of perspectives on globalisation and localisation tactics will give a comprehensive view of the trends and strategies in place. In addition, the summit is guaranteed to be attended by 85% of senior leadership positions, ensuring you will learn and network with CMOs, Heads, Directors and more.
The MarTech Summit Berlin will be taken place following the motto Driving Change in Localised Marketing Strategies. The summit will be held in person on 22 March at Park Inn by Radisson Berlin Alexanderplatz (Alexanderpl. 7, 10178 Berlin, Germany). Find out more information and register here: https://themartechsummit.com/berlin
This summit is designed for senior level executives in functions such as:
Marketing & Technology | Brand Loyalty & Retention | Data Privacy | E-commerce Marketing | Digital Strategy | Customer Experience (CX) & Engagement | OmniChannel | Innovation | Social Media | Content Strategy & Storytelling | CRM | Customer Data Platforms | Digital Asset Management | Automation | Digital Transformation & Growth | Digital Experience | Customer Journey Marketing | Full-funnel Marketing